Customizable 3D software platform for visualization 3D data
Supported Platforms
• Windows 7 64 bit
• Linux 64 bit (Red Hat 6.5/Centos)
• available also as portable release
Core product
• Core Database : based on SQLite 3.8
• Graphics Library : VTK 6.1/QT5.4
• OpenGL 3.3 (minimum requirement)
It supports different input and output CAE file formats, with complete suite of 3D visualization capabilities on mesh and for results. Download product brochure.
Web Environment customization developed by Exemplar and powered by ALFRESCO.
ECDM comes out from deep knowledge of issues and requirements specific for CAE users, it can manage engineering projects and CAE data.
It is based only on Web and HTML5 compliant technologies, without installation of specific, proprietary nor system-dependent client tools. Download product brochure.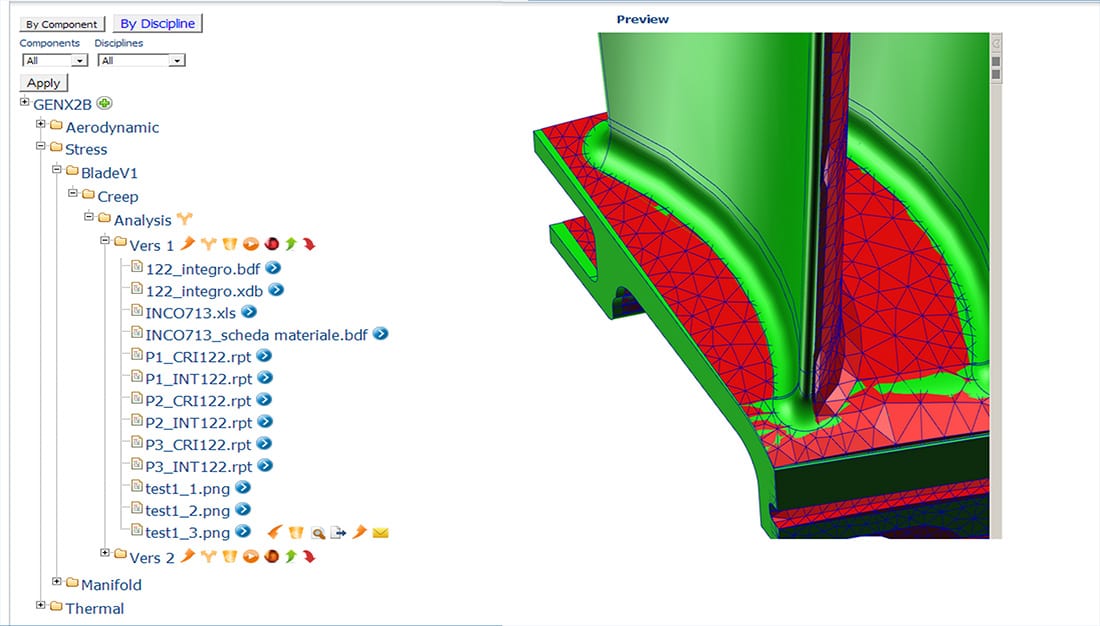 intelligent Decision Advisor
Classic optimization methods have a huge difficulty to manage those kinds of problems. For such areas a new optimization procedure has been studied and implemented: intelligent Decision Advisor iDA.
The innovation given by this methodology regards the strategy driving through the exploration of solutions domain.
Component features
Manages designs with thousands of parameters
Few options need to be set
Smart decision advisor allows improvement of starting solution in a few steps
Automatic removal of design parameters if a limit value is set
First research steps are devoted to exploration of the solutions domain; the last one aims to improve locally the identified solution
Nastran is a computational tool which allows fast and easy simulations of mechanical and structural projects. User has great freedom in choosing which Nastran parameters are involved in Isight (Fiper) process.
Component features
Does not need to know syntax of input/output Nastran file
All last and newer tabs are smartly managed by internal component interpreter
Easy interaction between Nastran technology and Isight framework
Automatic creation of Isight variables
All Nastran simulations are executed automatically by the component
Nastran output imported in Isight process

Allow utilization of any version of Nastran (MSC, NX) fitting any user needs and licenses
User has great freedom in choosing what Thermal parameters are involved in Isight (Fiper) process, and can easily change the driving parameters enabling a deeper insight into the physical problem.
Component features
No need to know syntax of input/output Thermal file
Automatic recognition of the data driven through template.dat, mat.dat and micro.dat
Easy interaction between Thermal technology and Isight framework
Automatic creation of Isight variables
All Thermal simulations are executed automatically by the component
Thermal output imported in Isight process
Enables the calculation capabilities provided by the Isight environment such as DOE, Design for Six Sigma, Montecarlo, Optimization
Additional data translation utilities to and from other computational tools are available