Post published:

23/04/2019

Post category:

News
The Transportation and Mobility industry is undergoing a revolution. Electric drive, autonomous vehicles and smart roads all promise to make personal transportation cleaner and safer, while onboard connectivity and infotainment make the passenger experience more comfortable. In this month's SIMULIA newsletter, you'll find information about our simulation solutions for meeting the challenges these new technologies pose, as well as about our upcoming conferences.
NEWS
The rise of autonomous vehicles and ridesharing mean the passenger experience is firmly in the driving seat for vehicle design. Climate control, noise and seat design all need to be optimized to maximise comfort, safety and energy efficiency – especially for electric vehicles. The hyper-connected world meanwhile makes increasingly heavy demands on on-board computers and wireless internet. Bringing a vehicle successfully to market means not only meeting all the regulatory requirements for safety and energy efficiency, but also crafting a passenger experience that sets it apart from competitor's offerings.
Vehicle Megatrends: Driving the Future and Steering Roadblocks
Future automobiles are expected to be assisted, automated, and autonomous while utilizing a wide range of technology. This blogpost interviews industry analysts and visionaries to discover the future of personal transport. READ MORE >
Simulation of the Future: Autonomous Vehicles, Part 1
Simulation software can predict how sensors for autonomous driving will be affected by weather conditions, and allow engineers to reposition them accordingly while the vehicle's design is still in the 3D modeling stage. READ MORE >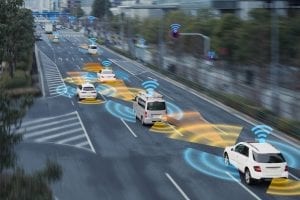 The Little Roady Shuttle: Autonomous Vehicle of the Future
There is plenty of talk about autonomous vehicles being the future of transportation, but will we really trust our cars to drive themselves? READ MORE >
Constructing a Concept Vehicle Structure Optimized for Crashworthiness
The earliest stages of development are critical; issues in the design of a vehicle must be addressed as soon as possible in order to prevent costly and time-consuming redesigns in later stages. READ MORE >
eSEMINARS
Trust the Drive eSeminar Series
Discover how Dassault Systèmes with its family of brands is tackling the challenges of electric vehicle design. These eSeminars cover solutions and key technologies to design, evaluate and optimize EV in an interconnected, multidiscipline framework. READ MORE > 
Aircraft Community Noise – 18th April
This eSeminar will introduce the key benefits of using SIMULIA fluids solutions by aircraft manufacturers. Ehab Fares, SIMULIA A&D Director, and Zaki Abiza, SIMULIA Industry Solutions Manager, A&D Initiatives, will discuss how to use SIMULIA Fluids Solutions to simulate aircraft community noise virtually at an early stage.
Print to Perform 2.0 – 9th May
In this eSeminar, presenters Tonya COLE, NC KISHORE, Anders WINKLER and Akshay NARASIMHAN will discuss the benefits of Print to Perform 2.0, a virtual solution for real-world AM issues. REGISTER NOW >
EVENTS
3DEXPERIENCE Forum
Las Vegas, United States | May 13-16, 2019
Through plenary sessions with industry thought leaders, focused breakout tracks, hands-on technology and networking opportunities, the 3DEXPERIENCE FORUM will help you prepare for the economy of the future and an Industry Renaissance based on new ways of living, working, interacting, innovating and creating new business – with the makers of the social enterprise. LEARN MORE >
Science in the Age of Experience
Boston, United States | October 14-15, 2019
Join Leaders and Influencers at this exclusive event for those making a difference through Science. Noteworthy scientists, innovators, chief engineers, agencies, and executives gather to explore forward-thinking, science achievements to change the world. Connect with peers, see new discoveries, discuss the possibilities and make the connections, to inspire and see the possibilities. LEARN MORE >